Saturday, January 27, 2018
11 a.m. – 4 p.m.
Main Library, 303 Laura Street North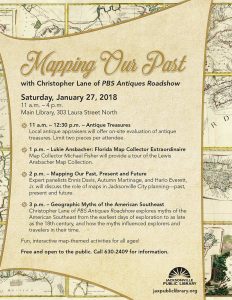 11 a.m. – 12:30 p.m. – Antique Treasures
Local antique appraisers will offer on-site evaluation of antique treasures. Limit two pieces per attendee.
1 p.m. – Lukie Ansbacher: Florida Map Collector Extraordinaire
Map Collector Michael Fisher will provide a tour of the Lewis Ansbacher Map Collection.
2 p.m. – Mapping Our Past, Present and Future
Expert panelists Ennis Davis, Autumn Martinage, and Harlo Everett, Jr. will discuss the role of maps in Jacksonville City planning—past, present and future.
3 p.m. – Geographic Myths of the American Southeast
Christopher Lane of PBS Antiques Roadshow explores myths of the American Southeast from the earliest days of exploration to as late
as the 18th century, and how the myths influenced explorers and travelers in their time.
Fun, interactive map-themed activities for all ages!
Free and open to the public. Call 630-2409 for information.

jaxpubliclibrary.org