About the San Marco Preservation Society
---
Our Mission
---
The San Marco Preservation Society's mission is to preserve and renew the San Marco neighborhood as an area of historical and architectural significance for the education, enjoyment, and benefit of residents, visitors, and the community at large.
A BRIEF HISTORY
---
The area we know today as San Marco has a long and rich history, known by many names over many years. Starting as a 216-acre Spanish land grant in 1793, the land was transferred to the Craig and Hendricks families, passed down through generations, then sold into residential parcels after the Civil War. Retiring Florida Governor Harrison Reed bought a considerable eastern portion and platted it as South Jacksonville; the western remainder was platted by Elizabeth Hendricks and called Oklahoma; and just south of Oklahoma, the large Alexandria Estate was established by Governor Reed's sister Martha and her husband, railroad tycoon Alexander Mitchell.
In 1901, at the time of the Great Jacksonville Fire, the Southbank was primarily a ferry landing and shipyard site. As fire ravaged the Northbank, the Southbank became a refuge for families. South Jacksonville was formed in 1907, and development began in earnest with the opening of the St. John's River (Acosta) Bridge in 1921. Telfair Stockton bought 80 acres of land north of the Mitchell Estate for the new San Marco subdivision and business center. The street names and business district were inspired by the Piazza di San Marco in Venice, Italy.
San Marco was an immediate success. An additional subdivision, Villa Alexandria, was then platted on the overgrown estate in 1929. The first two homes in this development were built by Carl and John Swisher, who had just moved their King Edward Cigar Company from Chicago to Jacksonville.
In 1932, Greater Jacksonville absorbed the South Jacksonville municipality and development transformed the area into much of the community seen today.
San Marco Preservation Hall
---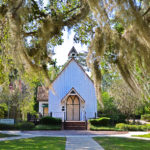 Preservation Hall Coordinator
Katie Kennedy
(904) 396-4734
Tours by appointment only.
South Jacksonville City Hall
---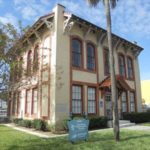 Office Administrator
Katie Kennedy
(904) 396-0081
Office Administrator Hours:
Mon / Wed / Thurs: 9 a.m. – 1 p.m.
BOARD OF DIRECTORS
---
2023-2024 Officers
---
Lauren Carlucci
Immediate Past President
Pat Andrews
Beautification
Robin Robinson
Historic Resources
Brittany Hegi
Safety & Nuisance
Logan Cross
Traffic, Pedestrian, & Bicycle
Matt Stupski
Preservation Hall
Andrew Dickson   |   Valerie Feinberg   |   Doug Skiles
San Marco By Design
Joe Carlucci
City Council District 5 
Desiree Bailey
SMMA Liaison