Town Hall Meeting! 

Come out & Join


Request for help.

 This Saturday the St. Johns River Celebration Cleanup will be held in two of our San Marco parks. The event was created to clean-up and bring awareness to our beautiful river. The weather is always perfect for this event but it falls during spring break for many families. That makes it difficult to recruit volunteers. The purpose of this post is to ask for your help.

If you are in town Saturday please join us at River Oaks Park (1201 Brookwood Road) or Balis Park (in the square) from 8:00am-11:00am. Any amount of time would be appreciated. Any age or physical ability is helpful.

For the river,

San Marco Preservation Society
            Come Out & Enjoy a Night of Fun!Enjoy Art, Food & Live Music
Even a section for Kids to Enjoy!
Tomorrow Night! March 14th! Come Hear all about the St. Johns River
Come join San Marco Preservation Society for wine, cheese and an update on all things St. Johns River tomorrow at 6:30 pm at Preservation Hall. Lisa Rinaman will be on hand to answer all of your questions. And SMPS Board members will be milling about to discuss all things San Marco! We hope to see you tomorrow night!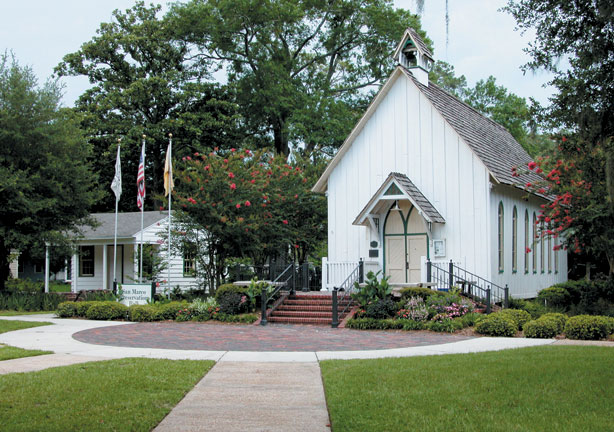 Local Landmark Designation
The San Marco Preservation Society (SMPS) has been actively monitoring the concerns expressed by some individuals in the community regarding the recent demolition of homes in the San Marco area. As many of you may know, some years ago SMPS commissioned a historic survey of many homes in San Marco in order to provide information to interested homeowners who inquired about the process to designate their home as an historic landmark. At this time, several homeowners applied for the designation.
A Local Landmark designation is sought through the Jacksonville Historic Preservation Commission, http://www.coj.net/departments/planning-and-development/community-planning-division/historic-preservation-commission.aspx. If the Jacksonville Historic Preservation Commission agrees that the site is appropriate for designation, it then recommends the site to City Council for final approval. If a home is designated a Local Landmark the homeowner must obtain a Certificate of Appropriateness (COA) for any exterior work done to the home, http://www.coj.net/departments/planning-and-development/community-planning-division/default/certificate-of-appropriateness-process.  For extensive work to a Local Landmark, such as demolition or new construction, a COA must be approved by the Jacksonville Historic Preservation Commission. For less extensive work, a COA can be issued by the Historic Preservation Section of the Jacksonville Planning and Development Department.  A COA however, is required before a building permit will be issued for any designated Local Landmark.
SMPS continues to retain the survey records and if there are residents whom are interested in this information or if you would like to apply for a Local Landmark designation, please contact SMPS at 904.396.0081, info@smpsjax.com, or contact SMPS President, LeAnna Cumber at 202.355.8760.
---
2017 MEMBERSHIP: January!
*It's that time of year again!* Time to renew your San Marco Preservation Society membership –or, if you're new to the 'hood, time to join! Our membership year runs with the calendar, from January to December 2017.
Why should you join? In addition to regular newsletter mailings and email updates, a SMPS membership will give your voice amplification in the San Marco community. The San Marco Preservation Society is constantly working with the City of Jacksonville and other area societies to make improvements, bring vitality to, and protect our community. A membership will give you access to news about incoming businesses development possibilities, City changes and updates, and public input events.
In addition, we hold all kinds of family-friendly and member-only events throughout the year that you won't want to miss out on!  The San Marco Preservation Society also contributes to the upgrading of area parks, maintenance and improvement of our neighborhoods' appearance, and the installation of the engraved bricks in the Square.
In order to thank our members for your support, the San Marco Preservation Society has partnered with our local San Marco merchants and retailers to create a program that benefits the entire community. When you shop locally, 2017 SMPS members (upon presentation of their 2017 Membership Cards) will enjoy the following exclusive offers. And check back soon– more exciting offers to come in 2017!
» 10% off purchase at Impressions
» 10% off purchase at Bold Bean Coffee Roasters (San Marco location) 
» 15% off purchase at Peterbrooke Chocolatiers (San Marco location)
» 15% off purchase at reve, San Marco
» 20% off purchase at The Wardroom Ltd.
» 10% off non-sale merchandise at Krista Eberle Boutique
» 10% off entire purchase at Leila's Delicious Fashions
» 10% discount of non-sale merchandise at Beau Outfitters
» 10% off merchandise at Miriam's Estate and Fine Jewelry
» 10% off merchandise at Scout & Molly's
» 10% off massage therapy services at Therapy Works
» 10% off dry cleaning – 3 pieces or more – at Herman Jackson's Cleaners
» 10% off food purchased for on-site consumption at Grape & Grain Exchange 
» 10% off purchase at San Marco Books and More
» 10% discount of non-sale merchandise at 1st Place Sports (San Marco Location)
» Free combo upgrade with the purchase of a burrito, salad, quesadilla, or tacos (2) at Hightide Burrito Co.
» One complimentary personal styling session at Rosie True – San Marco
» One complimentary glass of a "Preservation feature" (red or white wine) with the purchase of $20.00 or more at Taverna
» Odyssey Travel will comp your planning fee for your next trip or cruise ($100 value)
» 50% off the office visit at St. Francis Animal Hospital
How it Works: Become a member of the San Marco Preservation Society by purchasing your membership online or mailing a check (made payable to "San Marco Preservation Society") to: 1468 Hendricks Avenue, Jacksonville, FL 32207. For questions, please email info@smpsjax.com.
Once you have purchased your membership, you will receive a letter in the mail acknowledging your membership along with your 2017 SMPS Membership Benefits Card. You MUST present your card in order to receive these benefits from our generous merchants. Keep in mind, your card is YOUR responsibility. *These participating merchant discounts are subject to change and discontinuation. Please check on our website for the most recent changes and additions to the discount list.*
Thank you for supporting San Marco!

---
 A Piece of San Marco History
Dixieland Park was located on the Southbank of Jacksonville in the early 1900's. This place seems magical and almost like a dream. From ferry rides, to an assortment of entertainment, the City of South Jacksonville was momentous and alive. Below we have an article and photographs of Dixieland Park to spark your imagination and bring you back to a piece of San Marco history.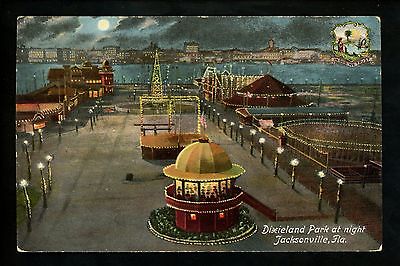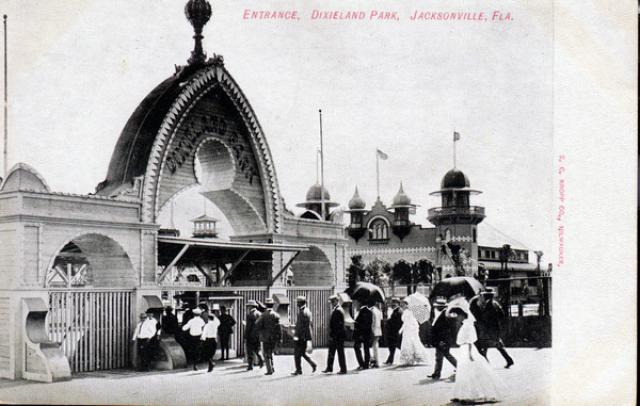 Flashback

Dixieland Park

 

               

The year 1907 was a big year for the Southbank – the City of South Jacksonville was formed and the Dixieland Park opened for the entertainment of all.

  

A forerunner of Disney World, Dixieland Park was a magnificent complex of performance venues and amusement park rides.

  

Guests from Jacksonville arrived by ferry at the riverfront park and were often greeted by a band playing in the decorative bandstand.

  

One of the largest buildings was the Theatre where live performances were held.

  

 

Another of the beautiful structures was the Dance Pavilion where dance contests were held nightly.

                

Rides included a roller coaster, a flying Jenny (merry-go-round), the Dixie Dewdrop (a 160' slide), and a circle swing. 

 

Limited engagement acts included flamejumpers, The Buffalo Bill Show, the John Phillip Sousa band, Big Otto's wild animal show, Attlebury's Cowboy Band, aeronauts Leon and Leona , daring balloonists, The Flying Automobile, Airships of different varieties and Martin Beaueang, the undisputed skating champion of Florida. The property included a free ostrich farm as well as an alligator farm.

  

As you can see, the expansive park included features stemming from circus, zoo, fair and theatre.

                

Jacksonville became the home of the moving picture industry when Dixieland Park leased space to film companies beginning in 1910.

  

The favorable climate and semitropical settings were a big draw for the movie industry.

  

They also utilized the space by bringing in a large array of wildlife including tigers, lions, and elephants among others.

                

The "big oak tree" which was featured on the Dixieland property was festooned with thousands of electric lights (at a time when residents of South Jacksonville did not yet have electricity in their homes) creating a festive glow in the park.

  

Today the only thing remaining from Dixieland Park is the "big oak tree" which is now known as the Treaty Oak.

  

It has grown massive in the ensuing 100 years and can be seen at the Jessie Ball DuPont Treaty Oak Park located on Prudential Drive.

Currently, there is a display of Dixieland Park in the windows of City Hall, go take a look at Jacksonville's history!
---
Bold Bean Coffee Roasters Joins San Marco
We are so excited to welcome our newest neighbor to the San Marco community! Bold Bean opened their doors on Monday, October 24th. They have a delicious range of coffee options to choose from, as well as a beer & wine flight menu. Not to mention that the café itself is so cozy & inviting!
Check them out M-F 6:30AM-7:00PM and 7:00AM-7:00PM Saturdays at 1903 Hendricks Ave. to grab a cup and give them a nice San Marco welcome!!!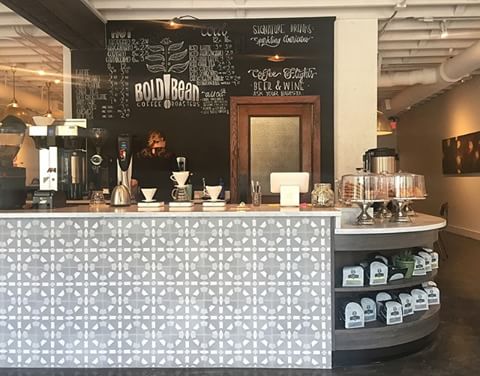 ---
San Marco Design & Development
San Marco has a historic feel, but it is anything from old news. With tons of new, exciting developments in the works, San Marco is on the verge of a major boom. Several projects are currently under construction, like Town Hall in the Square and the Baptist MD Anderson Cancer Center, but many more are still to come. We're keeping an eye on any and all possible developments and newcomers to San Marco. Sign up for our emails to receive updates about these exciting new additions that will impact our neighborhood.
Read the article from Modern Cities (August 2016) to hear about just a few.
Eight years in the making, San Marco by Design, our award-winning Neighborhood Action Plan for Smart Growth, is an ordinance that is a key part of the planning process for our San Marco community. 
San Marco by Design will help San Marco maintain its character and grow economically for thirty to fifty years to come. 
Download San Marco by Design: A Neighborhood Action Plan here: SMPS Action Plan

---
Click Here to read the latest
Spring 2016 Newsletter!
---
FIND OUT MORE AND STAY UPDATED ON OUR FACEBOOK PAGE
---