2017 MEMBERSHIP: January!
*It's that time of year again!* Time to renew your San Marco Preservation Society membership –or, if you're new to the 'hood, time to join! Our membership year runs with the calendar, from January to December 2017.
Why should you join? In addition to regular newsletter mailings and email updates, a SMPS membership will give your voice amplification in the San Marco community. The San Marco Preservation Society is constantly working with the City of Jacksonville and other area societies to make improvements, bring vitality to, and protect our community. A membership will give you access to news about incoming businesses development possibilities, City changes and updates, and public input events.
In addition, we hold all kinds of family-friendly and member-only events throughout the year that you won't want to miss out on!  The San Marco Preservation Society also contributes to the upgrading of area parks, maintenance and improvement of our neighborhoods' appearance, and the installation of the engraved bricks in the Square.
In order to thank our members for your support, the San Marco Preservation Society has partnered with our local San Marco merchants and retailers to create a program that benefits the entire community. When you shop locally, 2017 SMPS members (upon presentation of their Membership Cards) will enjoy the following exclusive offers. And check back soon– more exciting offers to come in 2017!
» 10% off purchase at Impressions
» 10% off purchase at Bold Bean Coffee Roasters (San Marco location) 
» 15% off purchase at Peterbrooke Chocolatiers (San Marco location)
» 15% off purchase at reve, San Marco
» 20% off purchase at The Wardroom Ltd.
» 10% off total bill at The Loop Pizza Grill (San Marco location)
» 10% off non-sale merchandise at Krista Eberle Boutique
» 10% off entire purchase at Leila's Delicious Fashions
» 10% off total bill at Maple Street Biscuit Co. (San Marco location only)
» 10% discount of non-sale merchandise at Beau Outfitters
» 10% off merchandise at Miriam's Estate and Fine Jewelry
» 10% off merchandise at Scout & Molly's
» 10% off massage therapy services at Therapy Works
» 10% off dry cleaning – 3 pieces or more – at Herman Jackson's Cleaners
» 10% off food purchased for on-site consumption at Grape & Grain Exchange (Note:  does not apply to packaged goods at Grape & Grain Exchange)
» 10% off purchase at San Marco Books and More
» 10% discount of non-sale merchandise at 1st Place Sports (San Marco Location)
» Free combo upgrade with the purchase of a burrito, salad, quesadilla, or tacos (2) at Hightide Burrito Co.
» One complimentary personal styling session at Rosie True – San Marco
» One complimentary glass of a "Preservation feature" (red or white wine) with the purchase of $20.00 or more at Taverna
» Odyssey Travel will comp your planning fee for your next trip or cruise ($100 value)
» 50% off the office visit at St. Francis Animal Hospital
How it Works: Become a member of the San Marco Preservation Society by purchasing your membership online or mailing a check (made payable to "San Marco Preservation Society") to: 1468 Hendricks Avenue, Jacksonville, FL 32207. For questions, please email info@smpsjax.com.
Once you have purchased your membership, you will receive a letter in the mail acknowledging your membership along with your 2017 SMPS Membership Benefits Card. You MUST present your card in order to receive these benefits from our generous merchants. Keep in mind, your card is YOUR responsibility.
Thank you for supporting San Marco!

---
 2016 San Marco Luminaria
The most magical time of year is upon us! One of San Marco's most cherished traditions is being held on Saturday, December 17th, at 6:00PM.
Luminaria kits will be available for purchase on Friday, December 16th from 4-7PM and also on Saturday, December 17th from 9AM to 2PM. The Luminaria table will be set up in the M Shack parking lot in San Marco Square. Kits are $10 each, payable with cash or checks. (Thank you to M Shack for hosting us!)
Please begin to light your luminaria around dusk, or soon before 6PM. If you live along one of our area parks, please consider purchasing a few extra kits to line the parks as well.
---
Bold Bean Coffee Roasters Joins San Marco
We are so excited to welcome our newest neighbor to the San Marco community! Bold Bean opened their doors on Monday, October 24th. They have a delicious range of coffee options to choose from, as well as a beer & wine flight menu. Not to mention that the café itself is so cozy & inviting!
Check them out M-F 6:30AM-7:00PM and 7:00AM-7:00PM Saturdays at 1903 Hendricks Ave. to grab a cup and give them a nice San Marco welcome!!!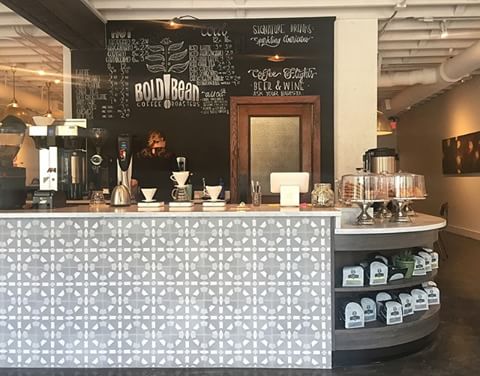 ---
San Marco Design & Development
San Marco has a historic feel, but it is anything from old news. With tons of new, exciting developments in the works, San Marco is on the verge of a major boom. Several projects are currently under construction, like Town Hall in the Square and the Baptist MD Anderson Cancer Center, but many more are still to come. We're keeping an eye on any and all possible developments and newcomers to San Marco. Sign up for our emails to receive updates about these exciting new additions that will impact our neighborhood.
Read the article from Modern Cities (August 2016) to hear about just a few.
Eight years in the making, San Marco by Design, our award-winning Neighborhood Action Plan for Smart Growth, is an ordinance that is a key part of the planning process for our San Marco community. 
San Marco by Design will help San Marco maintain its character and grow economically for thirty to fifty years to come. 
Download San Marco by Design: A Neighborhood Action Plan here: SMPS Action Plan

---
Click Here to read the latest
Spring 2016 Newsletter!
---
FIND OUT MORE AND STAY UPDATED ON OUR FACEBOOK PAGE
---