Farm to Table Dinner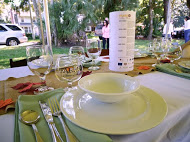 The 2014 Farm to Table Dinner was held on October 25, 2014, in Whatley Park and it was a GREAT success thanks to all those who attended!!  SMPS would like to personally thank all those who came out and enjoyed an evening of good food, good drink, and excellent company.  We would also like to give a giant THANK YOU to all the restaurants, farms, breweries and distilleries who were involved in making this evening so enjoyable….
Bistro Aix, Corner Taco, Dig Foods,
Bakery Ribault, Berry Good Farms,
Grape and Grain, St. Augustine Distilleries,
Palm Ridge Distilleries, Intuition,
Aardwolf, and Veterans United Beers
 **Check out the photos from the dinner on our gallery page**
New for 2014 — SMPS Membership Benefits Program
You asked for it, we brought it! The San Marco Preservation Society is pleased to announce a new Membership Benefits Program for 2014.
To thank our members for the benefit of their support through membership dues, San Marco Preservation Society has engaged our local San Marco merchants and retailers to structure a program that will benefit the entire community. When you shop local, 2014 SMPS members (who present their Membership Cards) can enjoy the following:
» 10% off purchase at Impressions
» 10% off purchase at Peterbrooke
» 10% off purchase at HeyDay! Children's Attire and Toys
» 15% off purchase at Reve
» 10% off purchase at Therapie
» 20% off purchase at The Wardroom Ltd.
» 10% off total bill at The Loop Pizza Grill
» 10% off entire purchase at Leila's Delicious Fashions
» 10% off dry cleaning – 3 pieces or more at Herman Jackson's Cleaners
» 10% off drinks or food purchased for on-site consumption at Grape-n-Grain Exchange and     the Parlour Speakeasy
» One complimentary personal styling session at Rosie True – San Marco
» 20% off purchase at San Marco Bookstore
» 10% discount of non-sale merchandise at 1st Place Sports
» One complimentary glass of a "Preservation feature" (red or white wine) with the purchase of      $20.00 or more at Taverna
How it Works: Become a member of the San Marco Preservation Society by purchasing your membership online or mailing a check (made payable to "San Marco Preservation Society") to: 1468 Hendricks Avenue, Jacksonville, FL 32207.
Once you have purchased your membership, you will receive a letter in the mail acknowledging your membership along with your 2014 SMPS Membership Benefits Card. You MUST present your card in order to receive these benefits from our generous merchants.
 Your card is YOUR responsibility. Thank you for supporting San Marco!

NOW OPEN!