Traffic Shifts Starting Friday 8/19 for I-95 Overland Bridge Project
August 16, 2016: Traffic is scheduled to shift Friday, August 19, weather permitting, as part of the Florida Department of Transportation's I-95 Overland Bridge Project improvements.
Traffic traveling southbound on Philips Highway (U.S. 1) from Kings Avenue is scheduled to shift to the left onto a newly paved lane. The shift is necessary to allow the contractor to complete curb and gutter work.
In addition, traffic traveling I-95 southbound will shift back to its original configuration onto newly paved lanes between the Fuller Warren Bridge and Emerson Street.
The shift is necessary to allow the contractor to complete roadway widening on I-95.
Motorists are encouraged to watch for additional directional signs and are reminded to follow the 45 mph speed limit as they proceed through the construction zone.
FDOT's $160 million I-95 Overland Bridge project began in January 2013 to replace the series of overpasses that carry traffic over Hendricks, King, and Montana avenues. The 2.3-mile project is designed to improve traffic flow along the I-95 corridor south of the Fuller Warren Bridge to north of Emerson Street. It is scheduled for completion in winter 2017.
Up-to-date lane closure information is available on the I-95 Overland Bridge Replacement project website at http://www.i95overlandbridge.com. A project hotline number (904) 491-2110 is available for questions and concerns.
---
Town Hall Meeting with Mayor Curry to Discuss August 30th Pension Referendum
On Thursday, July 28th, a town hall meeting was held at the Southside Baptist Church in San Marco Square to discuss the upcoming sales tax extension referendum. Mayor Curry and Council President Boyer both helped clarify the plan, answer questions, and discuss the plan with the community. Some excellent questions were asked and great information was given. We are grateful to Mayor Curry for speaking with us! Please follow this linkto read an article summarizing the event and watch footage of Mayor Curry's address.
Additionally, Council President Boyer discussed potential changes to the San Marco overlay and requested the community's feedback.
She also highlighted recent changes made to voting precincts that affect both congressional districts 4 and 5. (Be sure to refer to your new voter registration information to find your updated and accurate polling locations. To locate your precinct, click here.)
Mayor Curry's request: vote YES on Referendum #1 on August 30th. (To read the full text of the proposed pension referendum, click here.)
---
Town Hall Meeting to Discuss Flying Iguana
The San Marco Preservation Society is hosting a Town Hall meeting on Thursday, July 14th at 6:30 pm to discuss plans for the Flying Iguana restaurant to move into the Stellars Art Gallery location. Please join us to learn about this potential new resident of San Marco Square.
The meeting will be held at Preservation Hall, 1652 Atlantic Blvd.  Council President Lori Boyer will be in attendance.
Update: a second town hall meeting will be held to discuss new developments and information for the restaurant. The date of this meeting has not yet been decided. Please check back and sign up for our emails to stay notified.
---
San Marco by Design
Eight years in the making, San Marco by Design, our award-winning Neighborhood Action Plan for Smart Growth, is heading to City Council this spring. When adopted as an ordinance, it will become a key part of the planning process for any new infill development from Mitchell Avenue and the San Marco Square to I-95. 
For the full story, click here to read about it in The Resident News.
San Marco by Design will help San Marco maintain its character and grow economically for thirty to fifty years to come. Please support its passage in City Council by contacting District 5 Council Member Lori Boyer at lboyer@coj.net.
Download San Marco by Design: A Neighborhood Action Plan here: SMPS Action Plan

---
Click Here to read the latest
Spring 2016 Newsletter!
---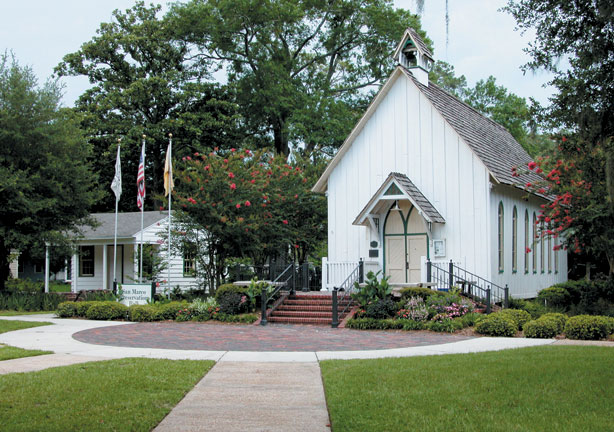 2016 SMPS Membership Benefits Program
It's that time of year again ~ time to renew your San Marco Preservation membership or, if you don't have one, it's time to join.  In order to thank our members for the benefit of their support through membership dues, San Marco Preservation Society engaged our local San Marco merchants and retailers to structure a program that would benefit the entire community. When you shop locally, 2016 SMPS members (who present their Membership Cards) can enjoy the following:
» 10% off purchase at Impressions
» 15% off purchase at Peterbrooke (San Marco location)
» 15% off purchase at Reve, San Marco
» 20% off purchase at The Wardroom Ltd.
» 10% off total bill at The Loop Pizza Grill (San Marco location)
» 10% off non-sale merchandise at Krista Eberle Boutique
» 10% off entire purchase at Leila's Delicious Fashions
» 10% off total bill at Maple Street Biscuit Co. (San Marco location only)
» 10% off purchase at French Imports
» 10% discount of non-sale merchandise at Beau Outfitters
» 10% off merchandise at Miriam's Estate and Fine Jewelry
» 10% off merchandise at Scout & Molly's
» 10% off massage therapy services at Therapy Works
» 10% off dry cleaning – 3 pieces or more – at Herman Jackson's Cleaners
» 10% off food purchased for on-site consumption at Grape & Grain Exchange and the Parlour Speakeasy (Note:  does not apply to packaged goods at Grape & Grain Exchange)
» 10% off purchase at San Marco Books and More
» 10% discount of non-sale merchandise at 1st Place Sports (San Marco Location)
» Free combo upgrade with the purchase of a burrito, salad, quesadilla, or tacos (2) at Hightide Burrito Co.
» One complimentary personal styling session at Rosie True – San Marco
» One complimentary glass of a "Preservation feature" (red or white wine) with the purchase of $20.00 or more at Taverna
» Odyssey Travel will comp your planning fee for your next trip or cruise ($100 value)
» 50% off the office visit at St. Francis Animal Hospital
****Be sure to check back for updated merchants and discounts****
How it Works: Become a member of the San Marco Preservation Society by purchasing your membership online or mailing a check (made payable to "San Marco Preservation Society") to: 1468 Hendricks Avenue, Jacksonville, FL 32207.
Once you have purchased your membership, you will receive a letter in the mail acknowledging your membership along with your 2016 SMPS Membership Benefits Card. You MUST present your card in order to receive these benefits from our generous merchants.
 Your card is YOUR responsibility. Thank you for supporting San Marco!

---
FIND OUT MORE AND STAY UPDATED ON OUR FACEBOOK PAGE
---