Originally a farm on the eastern bank of the St. Johns River, this property became known as the community of Oklahoma. One of the most prominent citizens of Oklahoma was Harrison Reed, who was elected Florida's governor in 1868 and 1873.
Reed's sister, Margaret Reed Mitchell and her husband, Wisconsin railroad tycoon Alexander Mitchell, fell in love with Oklahoma and built their winter home, Villa Alexandria, on 140 acres on the river. By 1872, the palatial estate included a mansion (near the present corner of River Road and Arbor Lane), barns, tennis courts, a swimming pool, polo field, over 2,000 orange trees, bridle paths and formal gardens. By 1873 Mrs. Mitchell was one of Jacksonville's most influential women and was active in many charitable causes. She died in 1902.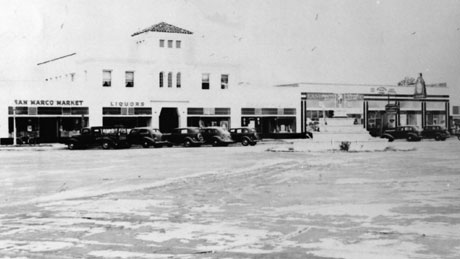 The development of South Bank began in earnest with the opening of the St. Johns River Bridge in 1921. Telfair Stockton bought 80 acres of land north of the Mitchell estate for the new "San Marco" subdivision. The business district was based on the Piazza di San Marco in Venice, Italy, which had impressed Mr. Stockton on a European trek. The claypit of Gamble & Stockton Brick co. was transformed into Lake Marco. San Marco was an immediate success. An additional subdivision, Villa Alexandria, was platted on the now overgrown estate in 1929. The first two homes in this development were built by Carl and John Swisher, who had just moved their King Edward Cigar Company from Chicago to Jacksonville.
San Marco's initial success carried it through the Depression years. The scenic layout, lack of commercial intrusion and proximity to Downtown continue to make San Marco one of Jacksonville's most popular neighborhoods.
The San Marco Preservation Society was formed in 1975 as a non-profit corporation to protect the integrity of San Marco' residential neighborhood and to enhance the revitalization of the business district. Its' many active members have succeeded in keeping the old-world charm and character of San Marco intact.
In 1994 St. Paul 's Episcopal Church was moved to Fletcher Park on Atlantic Boulevard and is operated by the Society as a rental facility for parties, weddings, and meetings.