Dixieland Park was located on the Southbank of Jacksonville in the early 1900's. This place seems magical and almost like a dream. From ferry rides to an assortment of entertainment, the City of South Jacksonville was momentous and alive. Below we have an article and photographs of Dixieland Park to spark your imagination and bring you back to a piece of San Marco history.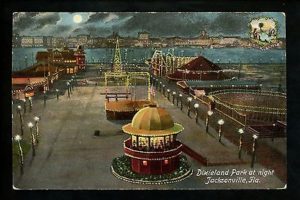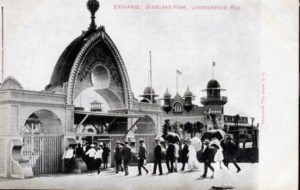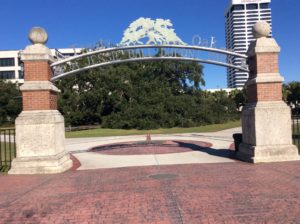 Flashback

Dixieland Park

 

               

The year 1907 was a big year for the Southbank – the City of South Jacksonville was formed and the Dixieland Park opened for the entertainment of all.

  

A forerunner of Disney World, Dixieland Park was a magnificent complex of performance venues and amusement park rides.

  

Guests from Jacksonville arrived by ferry at the riverfront park and were often greeted by a band playing in the decorative bandstand.

  

One of the largest buildings was the Theatre where live performances were held.

  

 

Another of the beautiful structures was the Dance Pavilion where dance contests were held nightly.

                

Rides included a roller coaster, a flying Jenny (merry-go-round), the Dixie Dewdrop (a 160' slide), and a circle swing. 

 

Limited engagement acts included flamejumpers, The Buffalo Bill Show, the John Phillip Sousa band, Big Otto's wild animal show, Attlebury's Cowboy Band, aeronauts Leon and Leona , daring balloonists, The Flying Automobile, Airships of different varieties and Martin Beaueang, the undisputed skating champion of Florida. The property included a free ostrich farm as well as an alligator farm.

  

As you can see, the expansive park included features stemming from circus, zoo, fair and theatre.

                

Jacksonville became the home of the moving picture industry when Dixieland Park leased space to film companies beginning in 1910.

  

The favorable climate and semitropical settings were a big draw for the movie industry.

  

They also utilized the space by bringing in a large array of wildlife including tigers, lions, and elephants among others.

                

The "big oak tree" which was featured on the Dixieland property was festooned with thousands of electric lights (at a time when residents of South Jacksonville did not yet have electricity in their homes) creating a festive glow in the park.

  

Today the only thing remaining from Dixieland Park is the "big oak tree" which is now known as the Treaty Oak.

  

It has grown massive in the ensuing 100 years and can be seen at the Jessie Ball DuPont Treaty Oak Park located on Prudential Drive.

Currently, there is a display of Dixieland Park in the windows of City Hall, go take a look at Jacksonville's history!