Dear Neighbor:
The San Marco Preservation Society would like to provide the community with an update on the Park Place at San Marco project (also known as the South Jacksonville Presbyterian Church property). Due to the hard work of all involved parties, including Right Size San Marco, South Jacksonville Presbyterian Church, the San Marco Merchants Association, the development team, and the SMPS, a lot has been accomplished over the last month. All parties have worked together towards compromise and improvement of the proposed project since the Nov. 2019 town hall meeting.
Because there are still moving parts to the project, the SMPS is not yet issuing an official statement, but does intend to do so. Additionally, the SMPS will be hosting another town hall about the project in order to provide you with more complete information. That date is to be announced, and will depend on the project's City evaluation timeline. Please check the SMPS website, emails, and social media for updates.
The project has filed an amended PUD application. There have been several changes made to the Park Place project that we would like to make you aware of at this time. The most significant changes are as follows:
The number of residential units in the project has decreased from 143 to 133.
The residential units on Mitchell Ave. have been eliminated.
The height of the parking garage has decreased from three decks to two (from 40' to 26'10").
The setbacks of the parking garage on the Mango and Mitchell sides have increased.
The setbacks of the apartment building on the Alford and Mango sides have increased.
The architecture and appearance of the façade of the apartment building has changed. (Components of the new appearance are still being finalized, and those design changes will be shared at a later date.)
Increased area for landscaping is being addressed.
A version of the updated site plan, submitted by the project to the City Wednesday evening, is below.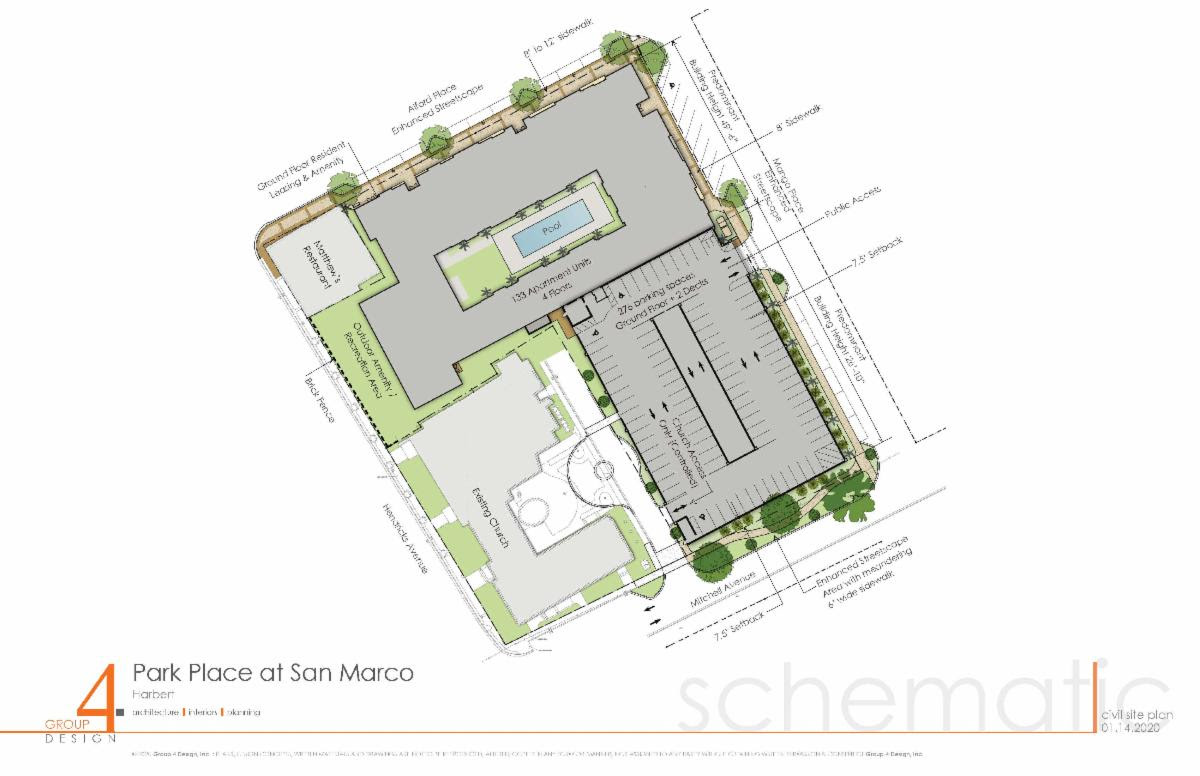 As the representative neighborhood organization for the San Marco community, we take our responsibility to you, the community, very seriously. The SMPS would like you to know how much your involvement in this process means to us. We are an organization created by residents, run by residents, and working for residents.
We would also like to acknowledge the efforts of Harbert Realty, Corner Lot Development, Envision Design, and Group 4 Design for their cooperation and willingness to work together to help make this project a better fit for the neighborhood.
More information will follow as it becomes available.